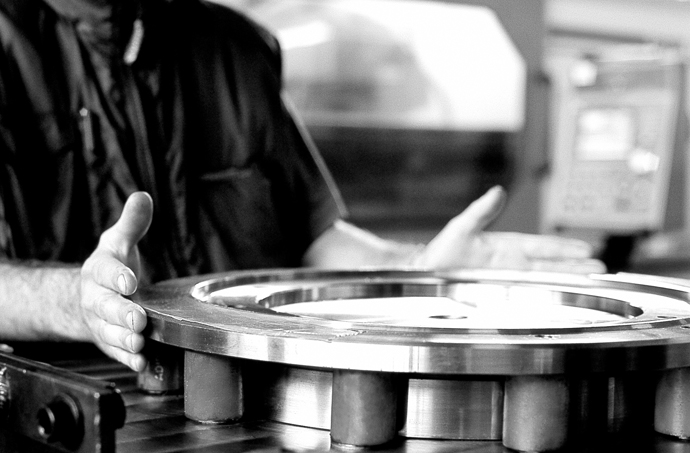 GO TO THE PRODUCTS SECTION


o learn about thicknesses and available sizes
ALTERNATIVE NAMES
| ASTM | EN | UNS | JIS |
| --- | --- | --- | --- |
| 304L | 1.4307 | S30403 | |
CHEMICAL COMPOSITION
304L
Chemical Composition - Maximum Value
C
Mn
Si
Cr
Ni
P
Mo
Other
0.03
2.0
0.75
16.5-18.5
8-12
0.045
0.02/td>
N<0.11
Typical Value
0.03
0
0
17.2
8.01
0
0.02
MECHANICAL CHARACTERISTICS
Tensile Strength (MPa) min
Yield Strength 0.2% Proof (MPa) min
Elongation (% in 50mm) min
Hardness
Rockwell B (HR B) max
Brinell (HB) max
500
>175
40
80-90
150-180
END USES

AISI 304L steel is the same as AISI 304, however with less Carbon content, where the "L" in the name stands for "Low carbon".

The lesser quantity of Carbon means this grade of stainless steel does not require annealing and therefore is widely used in very thick components (> 6 mm). The lesser quantity of Carbon minimises the precipitation of Chromium carbides produced in the welding phases and therefore susceptibility to intergranular corrosion. This characteristic makes 304L grade steel particularly suitable for welding even in very serious corrosive conditions. In general, the mechanical characteristics are comparable (in some cases slightly worse) to the corresponding AISI 304.

As AISI 304, AISI 304 L also presents magnetic characteristics and can be used in cryogenic environments and up to 700 degrees. Its main uses are heat exchangers, piping, pressurised tanks, valves and in general all applications requiring good sealing against atmospheric agents.